With new Irish Cinema, award winning World Cinema, short films, panels, discussions, and masterclasses, the 35th edition of the Galway Film Fleadh will bring powerful, moving, funny and provocative storytelling from both emerging and renowned filmmakers to Galway in July.

Running from 11 – 16 July, the Fleadh will feature 21 World Premieres, 6 European Premieres and 60 Irish Premieres from 43 countries, featuring 95 feature films in total.

Highlights include an advance screening of Thaddeus O'Sullivan's, The Miracle Club, the World Premieres of Irish films, Apocalypse Clown, Lies We Tell, The Martini Shot, Face Down, Verdigrisand Made In Dublin, the Irish premiere of acclaimed debut film, Past Liveswith director Céline Song in attendance and the Irish premiere of the winner of the Golden Bear at Berlinale, On The Adamant from director Nicholas Philibert.
Maeve McGrath, Director of Programming for the Fleadh said, "It is an honour to work with the programme team to find the best in Irish and International cinema to present for the audience in Galway. In the 95 feature films that we are presenting, we have 48 debut films with 41 Documentaries, 49 Narrative Films and 2 Animations alongside 102 short films. 

We are introducing new sections with a focus on Architecture on Film, Defender and The Artist On Film alongside our well-established programme sections such as Irish Cinema, World Cinema, Peripheral Visions, Generation and What the Fleadh?! "
The beating heart of the Galway Film Fleadh is Irish Cinema, and 34 Irish films will screen in the Irish Cinema section with 20 World Premieres and 7 Irish Premieres. These include the World Premiere of George Kane's, Apocalypse Clown which?follows a troupe of failed clowns as they embark on a chaotic road trip of self-discovery after a mysterious solar event plunges the world into anarchy. The World premiere of The Martini Shot starring actor Matthew Modine follows an ailing movie director as he begins to shoot what he believes to be his final work of art. Directed by Stephen Wallis, with performances from John Cleese, Derek Jacobi, Stuart Townsend and Fiona Glascott.?The World premiere of Lie Of The Land from director John Carlinpresents a tense drama that unfolds on a farm as a couple decide to abandon their farm but a last-minute change of heart leaves them fighting for survival.

Our Bingham Ray New Talent Award features 10 nominees from all disciplines across film including Agnes O'Casey who leads the cast in the World Premiere ofLies We Tellfrom director, Lisa Mulcahy, where a young woman finds herself in a struggle with family in this period drama. In the World premiere of Patricia Kelly's Verdigris, New Talent Nominee, Maya O' Shea plays a young woman, Jewel who befriends an older woman, Marian, a census enumerator, who needs her support to fill out the forms on the streets of Dublin.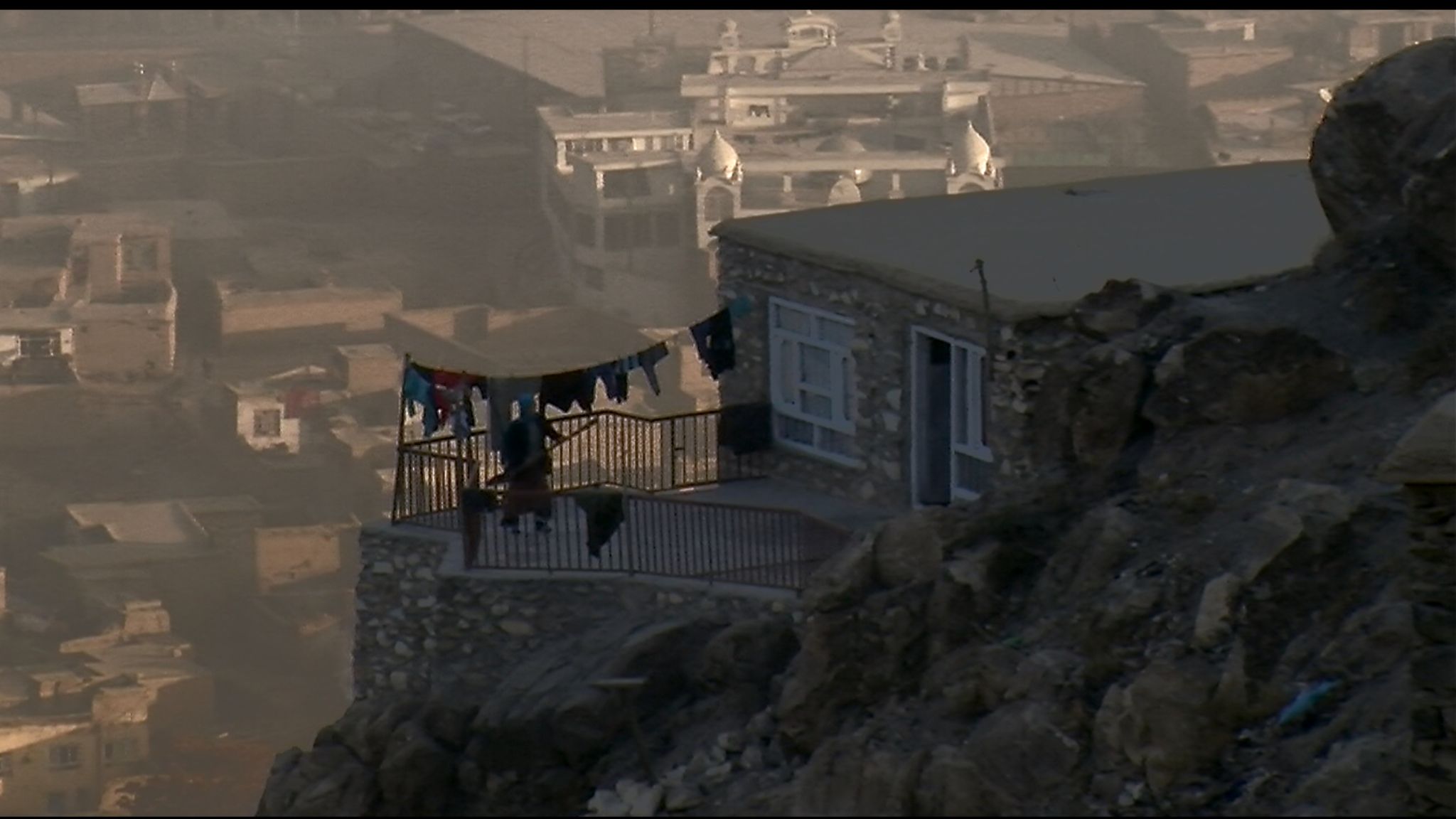 Our World Cinema Competition, which has a prize fund of €3,000, features 4 debut films in the 7 narrative and 3 documentaries with stories from around the world including the Irish premiere of Here, a captivating romantic drama that asks us to stop, reflect and enjoy living in the moment from award winning director, Bas Devos. The Irish Premiere of Carol Dysinger's One Bulletis a story of intimate female friendship forged amidst America's longest war while Muayad Alayan's A House in Jerusalem follows a young Rebecca as she moves with her father from the UK to Jerusalem, in the hopes that a new beginning can help her heal from her mother's sudden death.

In our new programme section Artist On Film, we encounter artists from across a variety of artforms including, a drama about the artist Audrey Amiss in Carol Morley's Typist Artist Pirate King, an investigative portrait of the master of cinematic melodrama in Douglas Sirk – Hope As In Despair and director Michael Modak-Truran captures the complexity of Faulkner's work and life in Faulkner: The Past Is Never Dead. We will screen the World Premiere of Donald Taylor Black's documentary, John Behan – Odyssey which will tell the story of one of Ireland's best–known living sculptors.

Animation highlights include the Irish Premiere of A Greyhound Of A Girl, a family animation from director Enzo d'Alo that follows 11-year-old Mary who loves to cook and dreams of becoming a great chef. This adaptation of Roddy Doyle's novel features a cast that includes, Brendan Gleeson, Sharon Horgan, Rosaleen Linehan and Charlene McKenna. Part of our Peripheral Visions Competition is the Irish premiere of White Plastic Sky, a Hungarian dystopian animation from Tibor Ba?no?czki and Sarolta Szabo? set in the year 2123. Faced with diminishing resources, the human race can only survive through a trade-off: at the age of 50, every citizen is gradually turned into a tree.

Our new Defender Strand features films that look at political policy, climate activism and humanitarian struggles. These include the Irish premiere of Lonely Oaks which tells the story of the occupation of Hambach Forest in Germany and the tragic circumstances surrounding the film. Let The River Flow is a heart-breaking story inspired by a series of protests in 1970s-'80s' Norway while Polish film, Backwards from director, Jacek Lusin?ski follows a mother fighting for her autistic child's rights to attend mainstream school.

A new Architecture on Film strand presents films that explore our landscape and buildings with feature films representing church buildings, concrete galleries and museums including The Promise. Architect BV Doshi, a reflection into the life of Balkrishna Doshi, one of India's most influential 20th century architects and recipient of the Pritzker Architecture Prize.
Our Music programme features six documentaries and one drama with the World Premiere of The Graceless Age: The Ballad of John Murry from director Sarah Share. This documentary follows his journey from near death to redemption and a new zest for life and art. The World Premiere of The Skids Revolution features the 70's/80's punk band who are enjoying a comeback. The Irish Premiere of Joan Baez I Am A Noise is a deeply intimate portrayal of a music legend and a post screening video conversation with Joan Baezwill follow. We will have one of the largest pop icons in the world, Cyndi Lauper in Galway for a post-show discussion following the screening of her new film, from director Alison Ellwood, Let The Canary Sing which will close the 2023 Fleadh.

This year we will remember two good friends of the festival who are no longer with us. A retrospective 35mm screening of KINGS will remember director Tom Collins and to honour James Flynn's contribution and legacy to the Irish film industry, the Fleadh will name the Best First Short Drama Award in his name.

We are committed to embedding and promoting equality, diversity, and inclusion (EDI) into all our activities and working practices. This year our target of a 50% gender representation has been achieved with 47% of films directed by Female Directors, 45% directed by Male Directors and 8% of our directors being a Male/Female Directing team. We have committed to representing older characters on screen and behind the camera and we have realised this commitment this year while ensuring that our film programme is diverse and inclusive.

Working with Chroma International Film Festivaland Young Irish Film Makers, the Fleadh will present a range of screenings, talks and networking to showcase diverse stories of people of colour.

The Fleadh will screen over 102 Irish and International shorts which will be in competition for the Fleadh's Oscar® qualifying prizes. Masterclasses in Acting and Screenwriting will be led by Matthew Modine and Carol Morley, respectively.
Full details www.galwayfilmfleadh.com
The full list of this year's winners:
Generation Jury Award
Scrapper [+] – Charlotte Regan (UK)
Best International Short Fiction
Last Call – Harry Holland (UK)
Best International Short Animation
Globby the Dragon – Xin Sun and Yun Li (Hong Kong)
Best International Short Documentary
Dipped in Black – Matthew Thorne and Derik Lynch (Australia)
Donal Gilligan Award for Best Cinematography in a Short Film
Eoin McLoughlin – Two for the Road (Ireland)
Best First Short Animation Award
Pinokidoki – Jack C. (Ireland)
Best Cinematography in an Irish Film
Eleanor Bowman – Lies We Tell (Ireland)
World Cinema Competition
Past Lives – Celine Song (USA)
Peripheral Visions Award
The Land Within [+] – Fisnik Maxville (Switzerland/Kosovo)
Best International Film
Here [+] – Bas Devos (Belgium)
Best International Documentary
One Bullet – Carol Dysinger (Denmark/USA)
The Pitching Award
Eimear Morgan – Billy Ruben + The Shunts (Ireland)
The Galway Film Fair – Best Marketplace Project
Bridge Way Films, Chris Hees and Dan Thorburn – Barfly (UK)
Best Irish Documentary
The Graceless Age – The Ballad of John Murry – Sarah Share (Ireland/Canada)
James Flynn Award for Best First Short Drama
Baby Steps – Hannah Mamalis (Ireland)
James Horgan Award for Best Animated Short
Worry World – Jessica Patterson (Ireland)
Best Short Documentary
Being Put Back Together – David McDonagh (Ireland)
Tiernan McBride Award for Best Short Drama
Two for the Road – Lochlainn McKenna
Best Independent Film Award
Verdigris – Patricia Kelly (Ireland)
Bingham Ray New Talent Award
Agnes O'Casey – Lies We Tell, The Miracle Club
Best Irish First Feature
Lie of the Land – John Carlin (UK/Ireland)
Best Irish Film
Apocalypse Clown – George Kane (Ireland/UK/Belgium)