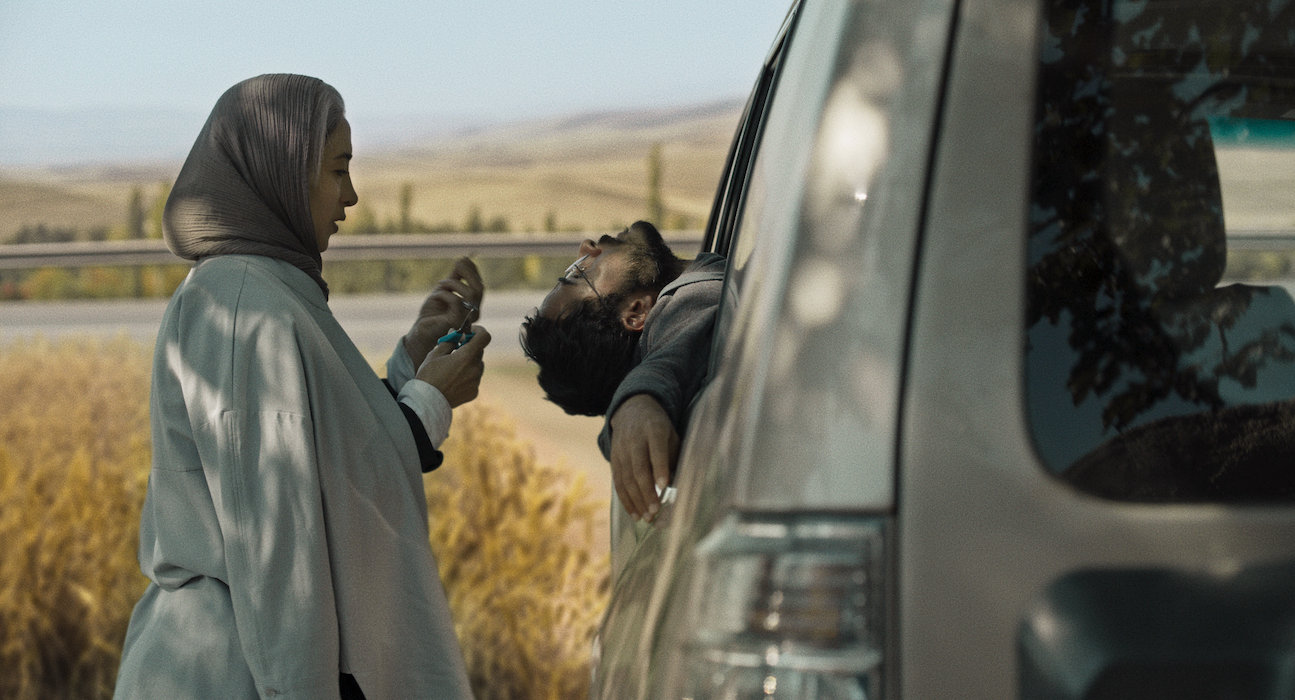 In Hit the Road by Panah Panahi an Iranian family say so much and yet leave so much unsaid.
A rock and a hard place
by Alexa Dalby
Hit the Road

CAUTION: Here be spoilers
The best Iranian films are like Michael Caine's description of a duck – calm on the surface but paddling like hell underneath. Hit the Road is one such. Because of censorship in Iran, there are many things that cannot be said on film, just symbolised.
Hit the Road starts with no explanation right in the middle, showing us a close family on a road trip through Iran's harsh terrain from the capital Tehran to a beautiful but remote spot in the heights of northwest Iran, close to the border with Turkey. But there's a feeling of foreboding that makes you doubt it's a holiday.
Wry father Khosro (Hasan Majuni) is immobilised and on crutches with one leg in a comically enormous plaster cast. It's a bit like the official hobbling of director Panah Panahi's father Jafar Panahi, banned from filmmaking and foreign travel for 20 years because of his criticism of the government. As recently as 9 July he was sentenced to six years jail for enquiring at Evin prison about the incarceration of two fellow filmmakers, Mohammad Rasoulof and Mostafa al-Ahmad.
The mother (a magnificent Pantea Panahiha) is caring but apprehensive about their trip and their strangely preoccupied 20-something studenty elder son Farid (Amin Simiar), who is driving. Their other son, hyperactive six-year-old little brother (Rayan Sariak) is irrepressible, but so talkative he cannot be trusted not to reveal the real reason for their journey, so they lie to him, saying his brother is going to be married. There's also a dying stray dog they adopted.
SPOILER ALERT
The reality gradually emerges. It's quietly devastating. The parents have sacrificed everything they own for their elder son to be trafficked out of the country by the villagers of this border region. It's a dangerous route, he's scared, and his parents don't know if they will ever see him again. But there is no future for him in Iran: they have no choice and they are not the only family to do this. Bickering and joking hides the pain of their separation and loss. And the pre-revolution – now forbidden – pop songs they sing along to in the car have words for what they cannot say themselves.
Hit the Road's Iranian title translates literally as 'dirt road'. According to Jonathan Romney's interview with the director in the Financial Times "While Panahi chose the film's English title for its echo of Ray Charles's Hit the Road Jack, the original title, he says, "literally means a non-asphalted road. In Farsi it has a double meaning: the 'unpaved road' is the road you take when you're helpless, when you can't do anything else."
There's so much in this wonderful film. Underlying it all are the huge issues of the current government and politics of Iran, why people feel their only option for the future is to quit their country and why clandestinely is the only possible way. In an interview, Panahi said that the film cannot be seen in Iran, though it premiered at the Cannes Film Festival. For info, as background to Farid's situation, he said that young men cannot get a passport and leave the country until they have completed their compulsory two years military service. By the way, use of cars on film is an ongoing Iranian trope for escaping surveillance and getting to a private truth (Taxi Tehran, Taste of Cherry) but on film cars can also transcend national boundaries to become an international substitute for the confessional (Drive My Car, Night on Earth).
One minute Hit the Road is dark comedy and then suddenly it's heart-rending. The performances of all four members of the family are extraordinary. The film sometimes opens out from the claustrophobic but private interior of the car to reveal beautiful, wild landscapes and then back again, and, for the most emotional scene, a distant, extreme long, wide-angle, shot that only shows people and their anguish in silhouette. And there's transcendental, magical realism as father and son blend into the stars dotting the dark of the universe, as well as some surprising lip-sync karaoke that will break your heart. Award-winning Hit the Road is so assured and feels so right that it's hard to believe it's a first film. Whatever you do, don't miss it.
Hit the Road premiered at the Cannes Film Festival and is released on 29 July 2022 in the UK.